GaramChai.com, Indian Yellow Pages in the US. Online Marketing to the Indian American community
With over 60 percent of Indian Americans holding a college degree and the majority in the workforce, marketers are starting to drool over the potential of this ethnic segment. We aim to provide everything Indians living in the United States may need to maintain their lifestyle outside of India. This site is a complete resource listing of 400 temples, 500 restaurants, 500 bazaars and online shops. Other listings include jewelers, wedding specialists, theaters, beauty salons, Mosques and Gurudwaras. To view a complete index of our offerings tailored to the needs of Asians, Indians, NRIs Pakistanis, Sri Lankan and other South Asians and others in the US, Canada and North America. A number of business and media streams are already successful in targeting this market segment:
Special Feature: Indian Government's decision to do away with 500, 1000 RUPEE NOTES! Impact on NRIs
In a much applauded move Prime Minister Narendra Modi's government decided to "kill" the 500 and 1000 rupee notes. Some of the notes in circulation were supposedly fake and some of it used to fuel the underground economy (a.k.a "black money" )
"Brothers and sisters, to rid this country of the termite-like corruption and black money, it has become essential to take one more tough step. Starting midnight tonight, that is, on the midnight of November 8, 2016, the current currency notes of denominations of rupees 500 and rupees 1,000, will no longer remain legal tender. These currencies will become legally invalid." - Link to official announcement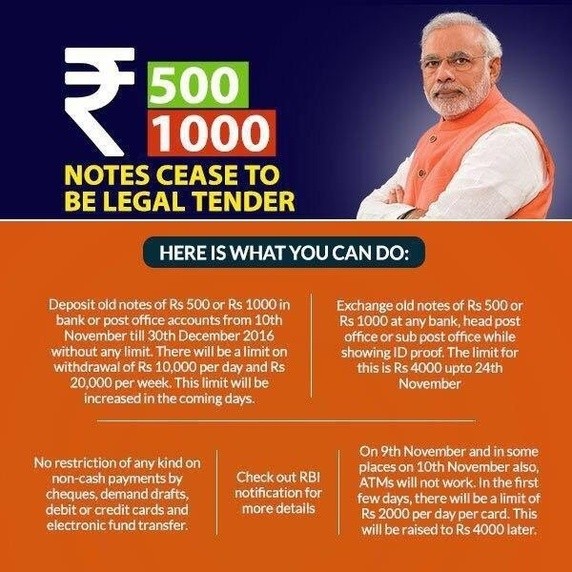 Bloggers and digirati have eagerly jumped on this issue and have been circulating viewpoints:
How will scraping of 500 and 1000 rupees notes help in curbing corruption and black money? - "Till end of the year, people will exchange or deposit existing 500 and 1000 notes at banks and post office. However, you need to show a valid government ID proof and the banks and post offices will have to maintain proper transaction records for the same.For smaller amounts, there should be no issue. But if someone comes and deposits 1L in cash, it might be highlighted and escalated to the government. Modi government might have advised banks and post offices to escalate all transactions above a certain threshold." - By Deepak Mehta on Quora
Responses from Souradip Sarkar and Balaji Viswanathan, among others.
---
NRIs and visitors to India probably have some 500 and 1000 rupee notes left over from previous trips are probably wondering what to do with the notes. Key facts and practical tips are featured on the special section "FAQ on 500 rupee for NRIs" on GaramChai.com (link)
In the News: The Patanjali Aurved Phinomena
The Patanjali Aurved Phinomena is rocking Indian Fast Moving Consumer Goods (FMCG) sector. The Non Resident Indian community is also going ga-ga over Patanjali products. Here is a feature including links to latest articles on the topic.

Power Yogi: How Baba Ramdev became India's swadeshi FMCG baron (India Today, July 2016):

"The sun is about to set behind the forests on the outskirts of Haridwar. The downpour of the previous night has made it a relatively pleasant summer evening. The silence in one of India's most guarded ashrams - CRPF personnel frisk you every time you enter the premises - is punctuated by the sound of a fountain in the middle of the manicured lawn, and of a swing in the verandah of an M-shaped cottage. In the saffron hues of dusk, a saffron-clad yogi is sitting on the swing. His eyes are closed, as if meditating to find the answer to the simplest, most obvious, and somehow the trickiest question posed to him: why is a self-proclaimed renunciate selling shampoo, toothpaste, detergent and anti-ageing cream?

When he opens his eyes, the lopsided smile and the mischievous glint in the eyes are gone. "When I went to the Himalayas in my youth, I saw many sadhus who had given up the materialistic life. But what were they doing? Nothing for the welfare of mankind. That cannot be the purpose of life. In India, it's believed that sadhus can't do anything; they are supposed to live on donations. It hurt me. The real goal of a sadhu is not to attain moksha for himself but to serve the masses. My business is not for profit but to spread wellness," says Baba Ramdev, 48, India's most celebrated yoga guru, who is riding high on a heady, hitherto untasted cocktail of yoga, satsang, ayurveda, business and politics.

Ramdev stands out from all other gurus on the Indian social spectrum not just because of the size of his burgeoning FMCG empire - worth Rs 5,000 crore at last count - but also because he wears his political inclinations on his sleeve. He purportedly has a direct line to Prime Minister Narendra Modi, and is close to several members of the Cabinet and a number of chief ministers across the land. He was one of the key figures of the Lokpal movement in 2011, was received at the airport by then finance minister Pranab Mukherjee as the UPA government tried to broker a deal with its leader Anna Hazare, and cut a comical figure when he was taken into custody at the Ramlila grounds in Delhi while trying to escape dressed in a salwar kameez. He is an advocate of replacing the tax system with a single transaction tax. He kickstarted the black money drive that became one of the key campaign promises of the BJP in the 2014 Lok Sabha elections. And he now stands as a major support booster for the Modi-led NDA government. When he isn't slamming those who returned government awards in protest of alleged intolerance, he is threatening to chop off the head of anyone who refuses to chant 'Bharat mata ki jai'. From drug abuse in Punjab to the spiritual health of the relationship between a husband and wife, and from the purported horrors of homosexuality (which he can help "cure") to the importance of buying desi, the guru's discourses encompass a vast universe."
Link to GaramChai.com special feature on Patanjali
Book Review: The Bounce!: A Story of Love, Loss and the Life of a Global Indian
India Empire: Bouncing back!

Mohan, an IT professional from North Carolina has strong roots to India. He has moved and lived across three continents in five countries and visited dozens others. In a candid interview with India Empire's Assitant Editor, Misha Singh, Mohan talked about his journey, experiences and his debut book "The Bounce! -- A Story of love, loss and the life of a global Indian"

This is your first book. What inspired you to write the book?

I have written and blogged extensively on technology and management topics, but this is my first fictional book. I had been reflecting on an incident, back in 2008 when we lost a healthy, bouncy child while on a Jet Airways flight from Brussels to Delhi. My wife and I were relocating back from Toronto with a five and half month old child when tragedy struck. The book is an attempt at redemption, especially as writing has been very cathartic for me.

By talking about my story, I am also hoping to provide some inspiration to others facing life's challenges on bouncing back, as the title suggests.

This is a semi-autobiographical novel, what can the readers expect from the same?

Much of the story depicted in the novel is mine. I decided to write a semi-autobiographical novel since this format gave me a bit of artistic liberty to stretch my imagination while basing the outline on facts as I remembered them. A few accounts, and names have been fictionalized and I rely on the dialog style that a fiction can accommodate more than a biography.

What was your goal when you wrote the book--was it to just finish writing or getting it published and reaching out to the world?

My goal in writing "The Bounce!" was simple. I had a story that I thought must be told. It is also an attempt to show a human face to globalization and people in the dynamic global outsourcing industry who travel around the world.

How did you begin writing this book? What do you wish to convey with the book?

I began writing the book in 2012. After attempting to write it as a biography, I switched to a semi-autobiographical format earlier in 2015. There are a couple of key messages I feel I am conveying in the book. My journey is an example of living this adage, and wanted to share my life's journey and the dynamic nature of outsourcing industry with readers. The key message is about redemption. The theme of "The Bounce!" is all about the ability to bounce back, especially after unforeseen tragedies in life.

What authors do you like to read? Do any of them influence your writing?

I firmly believe in the adage "he, who reads more, writes more". My reading habits are eclectic and include fiction and nonfiction books on business and technology.

'Elizabeth Gilbert's cheerful narrative "Eat, Pray, Love" highlighting how she overcame her life's challenge was an inspiration at the time in life when I needed one.

Please tell us something about you and your connect with India?

I grew up moving across India. After completing my masters from an Engineering college in Mysore, I joined a British software firm in Bengaluru. I worked with Infosys for nearly a decade and now live the Indian-American dream in North Carolina with my charming wife Sujatha and adorable kindergartener Vijay. My parents live in Bengaluru and my in-laws in Delhi and I try and make an annual trek back there with my family. The intent is also to ensure Vijay bonds with his grandparents and cousins while retaining his Indian-ness.

A great fictional debut by a Non-Resident-Indian author (Review by - India Empire
About the Author
Mohan is an Indian American Information Technology executive with a multinational company headquartered in Switzerland. He has lived and worked in five countries across three continents, gaining a first-hand experience of working in multicultural environments.

Mohan is also a blogger, columnist and writer whose viewpoints and papers have been published in several international technical and non-technical journals. He lives in North Carolina with his lovely wife and adorable kindergartener.
Search
Search GaramChai.com and other information
Though websites like Sulekha, Search India and others attract advertisers by providing listings, events, chat and discussions, Garamchai.com aims to be the most extensive information directory with a simple but elegant user interface. GaramChai.com is a complete resource listing of hundreds of temples, restaurants online shops, grocers and bazaars. Other listings include jewelers, wedding specialists, theaters, beauty salons, mehndi services, places of worship including Temples, Mosques, Churches and Gurudwaras. With the large amounts of information, the site is well organized dividing most listings into state categories. Sending comments or suggestions is simple with a form that is provided on the site or by emailing us [Replace _at_ with @] This section of GaramChai.com will attempt to address some of the Frequently Asked Questions on Life in the US and Canada that immigrants, visitors and others from different cultures attempt to address.
Advert Partner
Advert Partner
Advert Partner
Insurance Channel
Google Advert